Call Center Consultants
Organizations Providing Consulting Services
Call Center Consulting Companies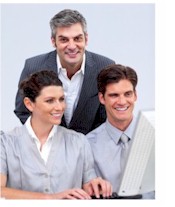 Call center consulting is one of the fastest growing aspects of the call center industry. Because of the highly competitve nature of this business, it is important to rely on experts who have designed and operated modern call centers.

Call centers receive large volume of telephone calls and likewise can place many outgoing calls at once. Call center service representatives may be located at one center or may be distributed throughout multiple locations and even work from home.

Because of the complex nature of this modern call center, it is important to obtain the best advice when managing such complex resources as telecommunications equipment, phone carriers and providers, office staff and management, as well as your pool of call center phone agents.

Database Systems Corp. (DSC) has specialized in the development of call center related software and technology. DSC has developed computer telephony products including contact management software and phone systems and provides call center outsourcing services.

Contact DSC to learn more about our call center consulting services.


---
Call Center Consulting Organizations
IVR Consulting
DSC offers comprehensive IVR consulting and development services to its clients including IVR design and applications development. These services include the IVR design and development of virtually any phone application.


IVR Design
Database Systems Corp. (DSC) offers complete IVR design and development software for the creation of automatic phone answering applications. DSC can develop your phone campaign quickly and have your application in production within days.


---
Call Us Today
Contact DSC to learn more about our call center products and services.