IVR Applications
Interactive Voice Response Directory
IVR Applications Software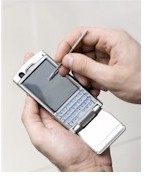 Database Systems Corp. (DSC) is a leading provider of call center products including interactive voice response (IVR) applications software.

In computer telephony, interactive voice response (IVR) is a computerized system that allows a person, typically a telephone caller, to select an option from a voice menu and otherwise interface with a computer system. Generally an IVR system plays a pre-recorded voice prompt to which the individual presses a number on a telephone keypad to select the option, or speaks simple answers such as "yes", "no", or numbers in response to the voice prompts.

DSC also provides complete IVR applications development such as customer satisfaction surveys. From simple to complex phone applications, DSC personnel can design, develop, test and implement your phone campaign quickly and have your phone program in place with a minimal amount of time.

Contact DSC to learn more about our IVR applications and outsourcing services.
IVR Applications
The following are examples of IVR applications used in commercial and public service environments.


---
IVR Applications Providers
IVR Applications
EasyIVR provides complete online IVR outsourcing services and IVR application development. EasyIVR lets you manage your own phone campaigns from the internet. EasyIVR includes a complete listing of software applications implemented with existing customers.


IVR Applications
Over the years, DSC has developed phone applications for businesses and public organizations alike. The application of toll free answering solutions is becoming very popular today, allowing organizations to provide information to its members and clients 24 hours a day.


---
Call Us Today
Contact DSC to learn more about our interactive voice response technology and outsourcing services.